Teen Summer Horseback Riding Programs
PProviding Free Information for Teen Horseback Riding Programs
Request Free Information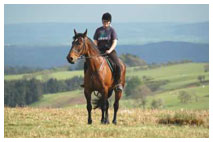 Teen Summer Horseback Riding Programs
Camp to Campus offers Teen Summer Horseback Riding Programs that are fun for Teens. Camp to Campus focuses on recommending well supervised and safe Summer Horseback Riding Programs located in different areas. Teen Summer Horseback Riding Camps are available in 1 week or 2 week sessions.
Teen summer horseback riding camps offer great experiences for your teens.
Teens in the Teen summer Horseback Riding programs can choose between comprehensive riding programs that offer both riding and stable management. Courses are offered with either Western or English riding styles. Teens can participate in overnight camping with their horses, cross-country courses with natural obstacles, in-ring games and shows. Each region offers additional activities and adventures that are representative of the area that the Teen Summer Horseback Riding Program is located. Teens are grouped for instruction according to their age, skill level, experience and aggressiveness.
Different teen summer horseback riding camps are structured for different levels of activity.
Select from Teen Summer Horseback Riding Camps in many states.
Now that you are curious about teen summer horseback riding programs, see more!
We make sure you receive all the brochures to browse at your leisure.
We make sure you receive DVDs so you can view our Teen Summer Soccer Camp locations in more depth.
Skilled Staff To Guide Campers
The skilled professional horseback riding teachers are experts in riding instruction and understand that each teen learns at their own pace.
We Offer Free Information:
Need your information in a hurry? Call Ann and Dick Travis at (347) 235-0376 for a consultation and receive links to the teen summer camps best suited for you! Our free summer program information kit with DVD will be provided upon request. To Receive Your Free Information Package Click Here.
Request Free Information
Get Your Free Summer Program Informational Kit