Teen Summer Cooking Programs
We Provide Free Information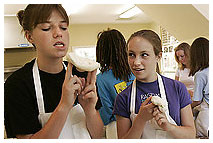 Teen Summer Cooking Programs
Camp to Campus connects teens with Teen Summer Cooking Programs where they can explore the fascinating world of cooking. Teens learn concepts about ingredients, food preparation skills and origins and availability of assorted foods and ingredients. Hands-on experience is learned while preparing and eating recipes crafted by the teens.
Now that you are curious about teen cooking programs, see more!
We make sure you receive all the brochures to browse at your leisure.
We make sure you receive DVDs so you can view our Teen Summer Cooking Course locations in more depth.
Skilled Staff Of Experts Guide Campers
The skilled staff are not only expert chefs, but understand that each teen learns and acquires knowledge at their own pace. The leaders also show the importance of team building and cooperation, showing teens how each one has value and is an active contributor to a common goal. Cooking has proven to be a very popular discipline for teenagers
We Offer Free Information:
Need your information in a hurry? Call Ann and Dick Travis at (347) 235-0376 for a consultation and receive links to the teen summer camps best suited for you! Our free summer program information kit with DVD will be provided upon request. To Receive Your Free Information Package Click Here.