Teen Summer Art Programs
We Provide Free Information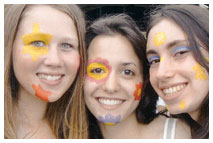 Teen Summer Art Programs
Camp to Campus offers Teen Summer Art Camps and Programs that are both dynamic and fun for Teens, with focus on art as well as outdoor activities and sports.
Teen Summer Art Programs
The art classes include instruction in visual arts, photography, video, recording arts, pottery, fine arts, fabric arts, sculpture, glass blowing, woodworking, metal working, batik, cartooning, drawing, jewelry, glass works, enameling, and ceramics. Teens learn to critique their work, learn the language and develop the vocabulary and ability to discuss the elements of art. They have the ability to exhibit and share their work with fellow campers and staff, and to participate in creating group projects.
Now that you are curious about teen summer art courses, see more!
We make sure you receive all the brochures to browse at your leisure.
We make sure you receive DVDs so you can view our Teen Summer Art Course location in more depth.
Skilled Staff Of Experts Guide Campers
The skilled staff are not only expert artists and professionals in their academic specialty, but understand that each teen learns and acquires knowledge at their own pace.
We Offer Free Information:
Need your information in a hurry? Call Ann and Dick Travis at (347) 235-0376 for a consultation and receive links to the teen summer camps best suited for you! Our free summer program information kit with DVD will be provided upon request. To Receive Your Free Information Package Click Here.