European Internships
Providing Free Information for Teen Internship Programs
Your Source for Professional Teen Internship Programs In Europe
Request Free Information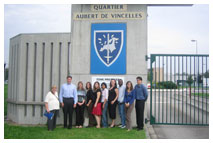 European Internships
Students with relevant work experience have a "tremendous edge" in today's competitive job market. Camp to Campus' advisors will help you choose the perfect European internship to the gain that edge. Internships tend to be in a student's area of major study and interest, The student will work for a chosen company in Europe from 9 to 5 and then reconnects with his fellow interns for supervised evening activities. There are planned fun weekend activities for the internship group to enjoy. Internships are offered in many different fields; there are many to programs to choose from. Internships are located internationally and domestically. Let Camp to Campus give you that edge over everyone else.
We Offer Free Information:
Need your information in a hurry? Call Ann and Dick Travis at (347) 235-0376 for a consultation and receive links to the teen summer camps best suited for you! Our free summer program information kit with DVD will be provided upon request. To Receive Your Free Information Package Click Here.
Request Free Information
Get Your Free Summer Program Informational Kit