Teen Summer Community Service Programs:
Australia
Providing Free Information for Teen South America Community Service Programs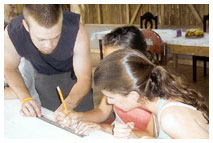 Australia Community Service Programs
Camp to Campus offers Teen Summer Community Service Programs with service work and cultural immersion across Australia, New Zealand and Fiji. Teens learn about people and places different from home while cooperating on teen community service projects. These community service programs range in length from two to four weeks. Teen summer camp community service programs may house teens in community centers, school dorms or residential homes.

Teen community service camps offer A VARIETY OF PROJECTS
Teen community service camps include projects such as:
Building community structures
Working with children and the elderly
Helping on environmental projects
Helping care for endangered animals
Assisting in educational programs and many more
We Offer Free Information:
Need your information in a hurry? Call Ann and Dick Travis at (347) 235-0376 for a consultation and receive links to the teen summer camps best suited for you! Our free summer program information kit with DVD will be provided upon request. To Receive Your Free Information Package Click Here.